Business Card/Brochure Site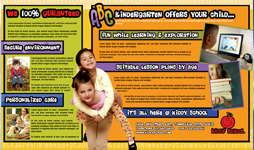 Your Business Card/Brochure Site can display information you would like your website visitors to know about yourself, your club, your organisation, products/services, or hobbies. With our user-friendly design tool you can choose from over one hundred pre-designed templates, add up to 2 images and as much text as you like, and easily update your site information anytime, anywhere.

Benefits:


Allows you to add your contact details or any text you choose, so any visitor entering your domain name into their web browser can view your information.
Up to 2 images can be included on your Single Page Website e.g. your business logo or photos.
Include a link on your Single Page Website to your email address, so visitors can contact you with one click directly from your website.
Combine with our *FREE Email Forwarding* service and you have a domain name, a personalised/branded email address, and a simple website to create your online presence for only 19.95! Domain name is an additional $9.95.
The Single Page Website will replace the standard Internet Reliance, Inc. "parked" page with your own customised web page.
Requirements:
Your page will have a page creator/editor tool.


Give us a call, email us or use the estimate form on the left and we'll get back to you very shortly.